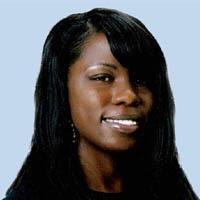 Stephanie Faíson is an employee at International Business Machines Corporation (IBM) currently working with the U.S. and Canada Internet and Managed Security Services Support team. She is an accomplished executive capable of managing a wide range of functions while consistently producing proficient work for over thirteen years. She is an excellent team player with strong work ethics and superior self-starter combined with organizational and technical skills.
Stephanie graduated from Wingate University with a Bachelor of Science Degree in Business Management and is presently in her second term at Kaplan University studying in the field of Information Technology with an emphasis in Web Multimedia and Animation. Her future career plans include pursuing a challenging position with a dynamic, growth-oriented industry, which will allow further utilization of her skills and acquire new abilities in Graphics and Web Design.
Her hobbies include spending time with her kids, traveling, reading, learning new skills and martial arts in the form of Kali and Thai Boxing. Stephanie Faíson is very active in her community and church organization. She tutors voluntarily at Elohim Outreach Center "We Care" that provides free tutoring for adolescences and adults.